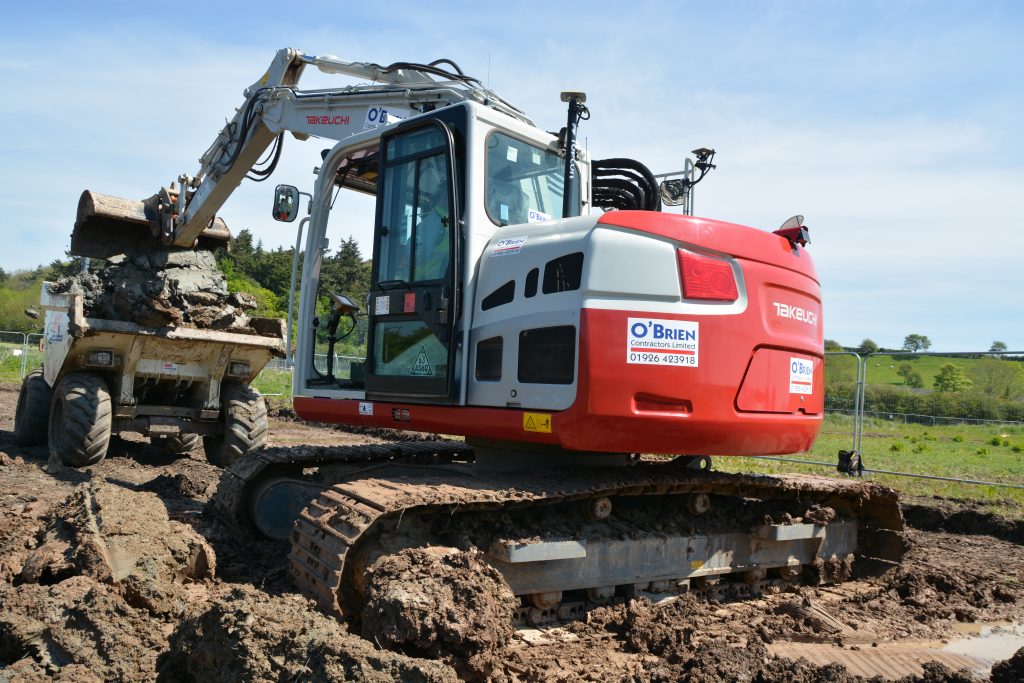 Credit to: Nick Drew and Earthmovers Magazine for Article and Photos
Digital Digging
Leamington Spa based family run business O'Brien Contractors Ltd have been at the forefront of innovative technology in the construction industry since the company was first formed in 1958 by Tom O'Brien, the father of the current directors Peter & Mick O'Brien who are also joined by fellow director Stuart Chamberlain.
Of course, in recent years technology involving state-of-the-art GPS guidance systems has really taken off and we are seeing a massive uptake in machine guidance set ups. O'Brien Contractors have been embracing the concept since it was first introduced into the UK market and as trailblazers fully understand the benefits that Machine Control (3DMC) systems can offer their business. Managing Engineering Surveyor for O'Brien Contractors Gareth Price said, "3D machine control technology not only makes our sites, or in fact any construction site, operate more efficiently and effectively, but also improves safety for our operatives on the ground and around the machine".
O'Brien Contractors run a diverse fleet of machines from a wide range of manufacturers with an impressive 29 items of plant already running machine controls systems, these include excavators, dozers and even rollers. The company have always had a strong relationship with Takeuchi, primarily for the products well proven, tried and tested reliability. They have been running the distinctive red and grey Japanese built excavators on the fleet for well over 15 years now ranging from 1.5 tonne class TB216's and nine tonne class TB290's right up to the 15 tonne TB2150's with offset booms. The most recent addition to the fleet is a TB2150R which features a conventional fixed boom which is said to be the first of its kind to be fitted with 3D machine control. Talking about the machine Gareth Price said, "The natural evolution of our relationship with Takeuchi was to marry a Topcon 3DMC system to the new TB2150R, we have looked into fitting the systems to our offset boom versions but that's still a bit complicated at the moment, but I'm confident a solution will be found, but for now we are happy to have the system on the new fixed boom model".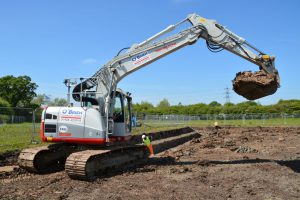 We caught up with the new machine on a site in Worcester, where O'Brien's are tackling the work for Stoford Developments Limited forming part of the next phase of expansion for the Worcester Six Industrial Estate. This work includes but is not limited to 5,600m2 of site strip under an archaeological watching brief, 500m of watercourse diversion, and 1300m of bund construction all involving circa 12,000m3 of earthworks. On the day of our visit the Takeuchi was excavating part of the site for the archaeologists who are performing a survey of the area ahead of the main excavation works and the operator had pre-mapped out the excavation including shelving levels before digging commenced.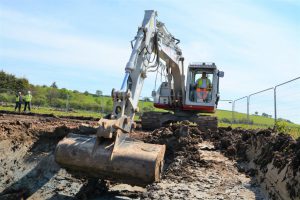 At the controls was long term operator John Neeson, who has been driving excavators for over 32 years. Until he joined O'Brien Contractor's John, like many an old school operator, had never used a machine control system before, but after a few hours of training he is now fully confident in the use and application of the Topcon 3DMC. At the time of our visit John had been using the GPS system for a couple of weeks and he was keen to talk to us about his experience with it so far, John said, "I was sceptical at first, but I have to say that since using the Topcon system for a short period of time, I wouldn't want to be without it now, it's just a fantastic piece of kit and from an operators point of view, it just makes my life a lot easier".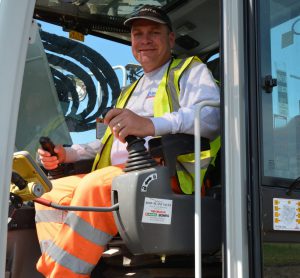 John continued, "As I said previously, I'd never used one before and initially it was a bit daunting, but I have found it very easy to use and of course we are lucky to have a very good engineering back up team on the end of the phone if there are ever any problems. Also, from an ease of use and safety perspective, it means we only require minimal groundcrew around us which is reassuring and it also eliminates the need for any spray paint lines so that's one more thing less to have to worry about as the dig is all mapped out in the GPS system". Explaining how the back-up works Gareth Price said, "We can offer John all our other GPS operators full support from the office via our remote support system our Engineering Surveyors to remotely access and control the 3DMC system from any internet-connected device. This support network is invaluable in reducing down time, remotely updating models and offering continued support for our drivers".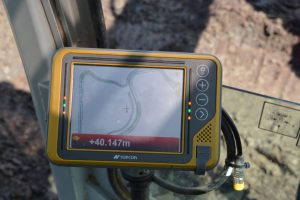 As an example of how easy it is, John said he had arrived in the corner of the green field, and marked out the plan of the dig using the GPS unit, which mapped it all out for him on the screen without him having to leave his cab. Gareth demonstrated how the system can be accessed remotely via a mobile phone or tablet at any time of the day or night, incredible technology! The company operate a policy of one machine, one operator, and his GPS system which is dedicated to that machine for its entire working life on the fleet, when machines are traded-in they are generally sold with the GPS system intact as part of the machine. For security reasons the Topcon screen and receiver pods are easily removed at the end of the shift and can be taken off site for safe keeping overnight. The movement sensors are mounted on the upper-structure, boom, dipper and bucket tipping link and are securely bolted on.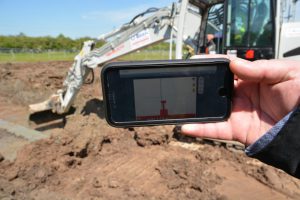 Due to the intricate nature of the works to be carried out on this project shaping the watercourse this site was identified as the ideal application for the Takeuchi excavator combined with the Topcon 3DMC system. Operator John is normally found at the controls of one of O'Brien's new Caterpillar 320 next generation 20 tonne class excavators, but in the early stages of this job he was trying out the new Takeuchi and had plenty of praise for it saying, "I must say it's a nice piece of kit, very smooth and precise on the sticks and with plenty of speed and power, it's a good all-round package really".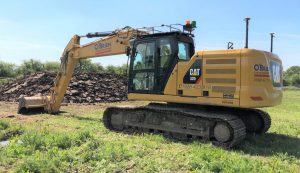 Photo: John Neeson's regular mount the Caterpillar 320 Next Generation excavator. The machine itself tips the scales at 15.6 tonnes and like its off-set boom style counterpart the TB2150, it retains the German built 4-cylinder Deutz TCD3.6L4 engine which is a Stage 4 Final emissions compliant unit complete with AdBlue system and DOC unit to achieve the required emissions levels. This engine has a rated power output of 85kw (115hp) @2000rpm.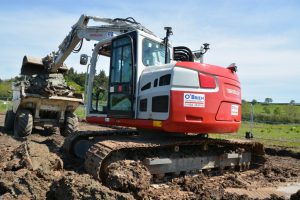 This example was fitted with the standard 700mm UK spec steel triple grouser track pads. The undercarriage has an overall length of 3750mm and measures 2690mm in width which gives the machine a good footprint and offering extremely good balance throughout the working arc. Forward and centrally mounted track guides help to keep everything in place even in the toughest of terrains, and twin speed track motors with auto step down function provide torque on demand when pushing, climbing slopes or when turning in high speed mode.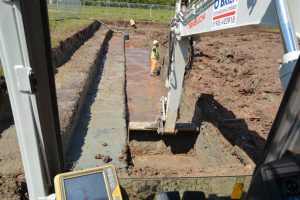 The mono boom features check valves which are located behind the boom lift rams for protection from accidental damage and a check valve is also fitted on the dipper ram. There are 3 x auxiliary hydraulic circuits fitted as standard.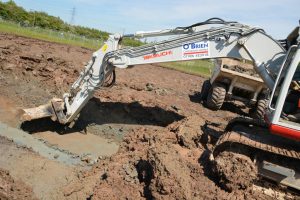 The TB2150R is still being rolled out with a relatively short 2.3m dipper arm, but there has since been an upgrade to a new dipper size of 2.85m, not far short of the standard preferred UK spec of 3m. As we understood previously, following consultation between UK dealers and Takeuchi designers in Japan they plan to re-design the dipper and fit a larger top ram to offer the same breakout force as is currently achievable with the shorter dipper. At the business end on this example a Tefra automatic hydraulic quick coupler from Hill Engineering was fitted.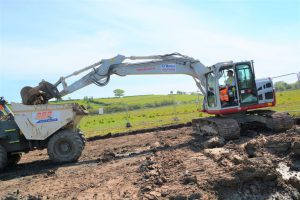 Its down to forward thinking companies such as O'Brien Contractors that we are now seeing much more of this GPS kit being used, its only going to be a matter of time before this digital digging technology becomes the industry standard.
https://www.earthmoversmagazine.co.uk/digger-man/view,digital-digging_2357.htm