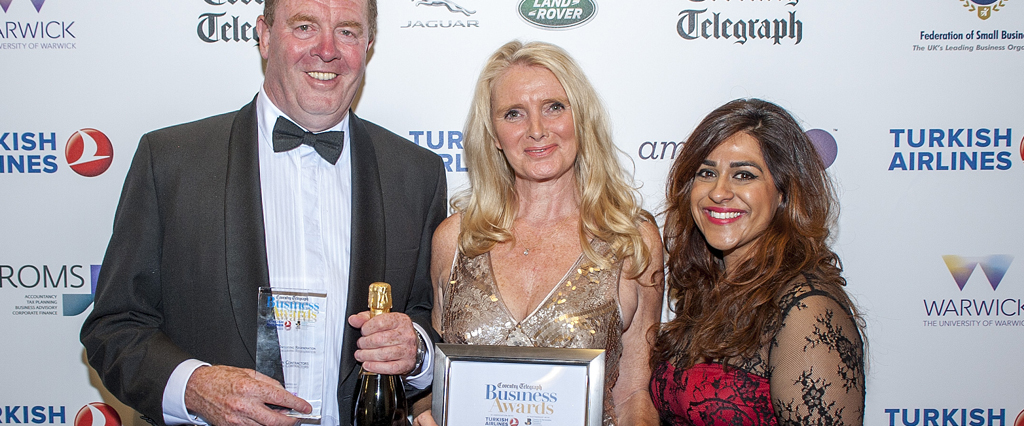 We are proud to announce that we have been named 'Company of the Year' and also received the 'Property and Regeneration' title at the Coventry Telegraph Business Awards 2015.
Following on from winning Specialist Contractor of the Year in the Construction News Specialist Awards 2015, the accolades provide further recognition for creating a five year strategic plan in response to the recession, a strong investment in training our people, diversifying into new markets and targeting higher value projects.
In 2009, with the recession taking hold and the company retracting by 40%, our directors embarked on developing a strategy to enable the business to see unimaginable growth: with an order book of £18m already secured for 2015, the outlook looks even brighter, with turnover set to increase to £32m for 2015/2016.
Coventry Telegraph editor Keith Perry said: "Judging the Coventry Telegraph Business Awards was really difficult this year because of the strength and depth of the entries we receive gets better every year.
"However, once we had debated long and hard about the winners for each category it was a unanimous decision to choose O'Brien Contractors for the prestigious Company of the Year accolade.
"O'Brien Contractors showed all the qualities we needed to see, with innovation and sustainable growth in a very competitive and challenging sector and a firm commitment to their staff and the region. They are worthy winners."
Commenting on the award success, Peter O'Brien, Managing Director, O'Brien Contractors said: "Receiving the prestigious Company of the Year and Property and Regeneration awards is credit to everyone who has been involved in the business, from the start of the economic down-turn, when we set out on our diversification journey."
"We viewed the recession as an opportunity and planned for the subsequent upturn. In a downturn, clients are less active, they are more receptive to changes in their supply chain as they are more focused on value."
Key to the success has been a focus on building stronger customer relationships by ensuring on every project, a Director has an overseeing role and assists the project delivery team.
In addition to our financial success, we have invested £4 million in new plant, technology and training programmes, delivering on our commitment to improve efficiency and reduce ongoing costs for our clients.
Peter O'Brien added: "We found out what organisations didn't like about their supply chains and repositioned our business approach, aligned with their requirements. This has enabled us to understand their needs and challenges better, so that we can provide them with tailored solutions, greater operational efficiency and a higher return on investment. In many ways, the recession was good for us."
"We are naturally delighted to receive the awards and look forward to delivering further projects across the region, based on a commitment of providing the highest customer service and excellent quality work to our clients."
Established in 1958, we are a trusted name in the Midlands construction industry, providing civil engineering, design and build and groundworks services, as well as turnkey sports pitch solutions.
Key projects and customers include the Nestlé factory with John Sisk; the Longbridge Marks & Spencer store with Morgan Sindall; and the Thunderbird 2 retail distribution centre with Sir Robert McAlpine, Accident and Emergency Centre, New Cross Hospital for Kier Construction and SFA Beacon Barracks (Borona) for Lovell.