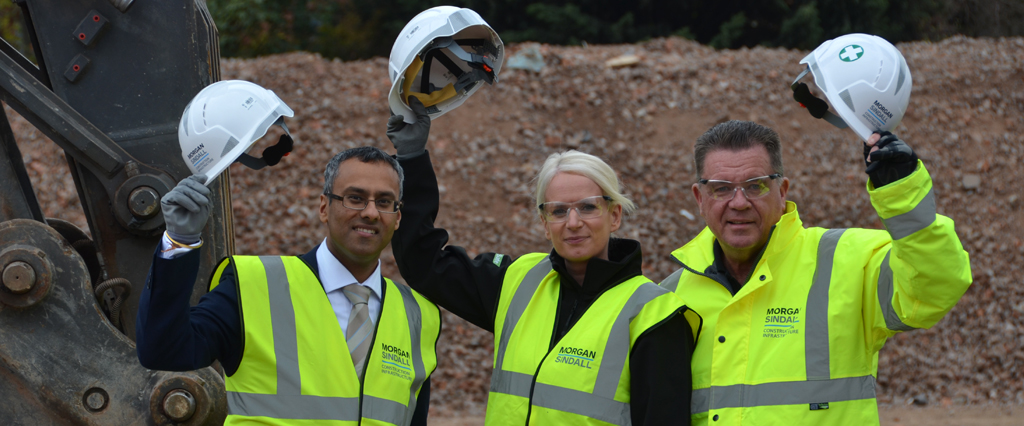 We have  been appointed to work on Perry Beeches the Academy Trust's fifth highly-acclaimed free school in Small Heath, Birmingham.
The delivery of a £10 million primary and secondary school facility at the former Virgin Media Office Building and adjacent industrial units will feature a 3 storey extension, sports hall, football pitch, MUGA and car parking.
Appointed by principal contractor, Morgan Sindall, we will deliver earthworks and a host of ground works – including foundations, drainage and associated works.
Morgan Sindall is a leading UK construction, infrastructure and design company and our Operations Manager, Tony Mitchell, sees the new contract as an endorsement of the services provided to them at St. Modwen's Longbridge Town Centre Phase 2 in Birmingham: "We are delighted to be working with Morgan Sindall on this important education project in Birmingham. The past year has seen us work closely with Morgan Sindall, fully understanding their standards, philosophy and objectives and we hope Perry Beeches V will strengthen our relationship further."
We will draw on our technical expertise, which includes state-of-the-art GPS controlled surveying equipment and machinery, to deliver groundworks services in the most efficient method possible and with minimal waste.
"Our team is well-versed at delivering high-grade education facilities in a live environment having provided civil engineering services on 9 schools as part of the Priority School Building Programme in Coventry and this experience will be pivotal in the execution of the scheme."
Established in 1958, O'Brien Contractors is a Midlands-based provider of civil engineering, design and build and groundworks services, as well as turnkey sports pitch solutions. Receiving the prestigious five star rating for Achilles BuildingConfidence accreditation in 2014 means O'Brien sits alongside leading names in the construction sector as suppliers of excellent quality work with a commitment to growth and sustainability.
Key projects and customers include the Nestlé factory and Number One City Locks residential building both with John Sisk & Son; Longbridge Town Centre Phase 2 with Morgan Sindall; Aston Student Village for Aston University; and the Primark retail distribution centre with Sir Robert McAlpine.
Picture Caption: Perdip Mann, Secondary Headteacher, Perry Beeches V School, Caz Brasenell, Primary Headteacher, Perry Beeches V School and Tony Fitzgerald, Project Manager, Morgan Sindall.