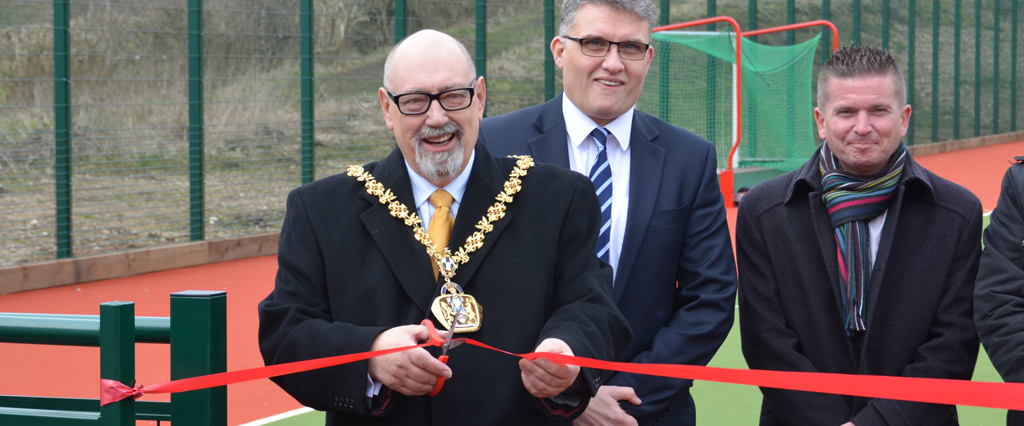 The Mayor of East Staffordshire, Cllr David Leese cut the ribbon and officially opened Burton Hockey Club's new full size synthetic grass hockey pitch at Shobnall Leisure Complex, Burton upon Trent.
The new facility, named after Peter Ellis, the former president and a member of the club for 50 years, was constructed by O'Brien Sports, in partnership with Notts Sports, and tested in accordance with "The International Hockey Federation (FIH).
It was Peter's wish that the club obtained its own playing facilities and when he passed away, he made a generous donation that led to the formation of an Astro committee.
Building on Peter's generosity, the committee raised additional money that provided support for a grant from Sport England and contributions from a number of other sources.
Ian Brown, Chairman, Burton Hockey Club, said: "It's all a bit overwhelming that the dream that started five or six years ago – and enhanced by Peter's legacy – has finally come to fruition."
"It's very exciting to have our own pitch for the first time since we formed back in 1889. We have always shared a venue or hired, so it's the first time we have been able to call somewhere our home."
Key to O'Brien's success in securing sports pitch projects, including: a sand dressed hockey pitch at Burton Hockey Club, Christ's College Finchley 3G football pitch, Gerard Buxton Sports Hub's 3G football pitch and 8 tennis courts and Oswestry School's hockey pitch has been their underlying commitment to invest in an earthworks team and the operation of GPS and laser guided plant.
Steve Hillman, O'Brien Sports, General Manager, said: "At tender stage our dedicated earthworks team liaise with both our internal estimators and our clients, and through accurate calculation of material quantities, we are able to deliver clear, accurate and reliable information and advice, before, during and after contracts.
By offering alternative designs at an early stage, we can create a solution that gives clients the best possible results financially and practically. We can also minimise our environmental impact by reducing plant movements and off site material disposal to landfill."
"Once we are awarded a contract, our machine control expert models the designed earthworks profiles and uploads them remotely to the projects Dozers and Excavators. This then ensures that the plant is ready to work before it even reaches the site."
If you've got a sports pitch project you're looking to start then call us for a chat about it on 01926 423 918 or email us at info@obriencontractors.co.uk and we'll get back to you soon.