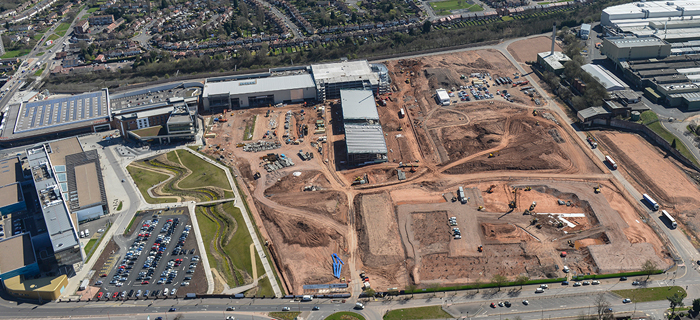 We've recently strengthened our earthworks service and plant hire division with the acquisition of a new GPS controlled CAT D6T dozer.
The new D6T will be put to the test at St. Modwen's £100 million town centre masterplan at the former MG Rover site. This development will feature the Midlands' largest Marks & Spencer store comprising 150,000 sq ft, a six floor multi storey, 500 space car park and an additional 45,000sq ft of retail, restaurant and café space.
We have been appointed by principal contractor, Morgan Sindall, to deliver a highways package – including earthworks, 1606m of drainage up to 6m deep and 4500m of kerbs and edgings.
The new CAT D6T takes our investment in state-of-the-art equipment and machinery up to an impressive £2.2m during the last 12 months, including: two new Volvo A25G articulated haulers, three Volvo EC140DL excavators and a CAT D6N GPS controlled dozer.
Mick O'Brien our Director, said: "Throughout the years, our expertise has grown but our aims remain much the same – to work with our clients as an expert partner and provide industry-leading staff, technology and skills to deliver end results that exceed expectations."
"To achieve our goals, we believe we must continue to invest in our people, software and machinery to ensure we continually improve the quality of our work and the speed of installation, saving our clients both time and money."
This latest investment is part of an ongoing diversification strategy that is transforming our business and seen us win countless awards in recognition of our innovation, including 'Tomorrow's Company' and 'Specialist Contractor of the Year' by Construction News and 'Contractor of the Year up to £300 million by Building Magazine.
As the industry prepares for its annual celebration at the Construction News Awards on 30 June 2015, the recognition we've received at previous awards has prompted us to proudly sponsor this year's event.