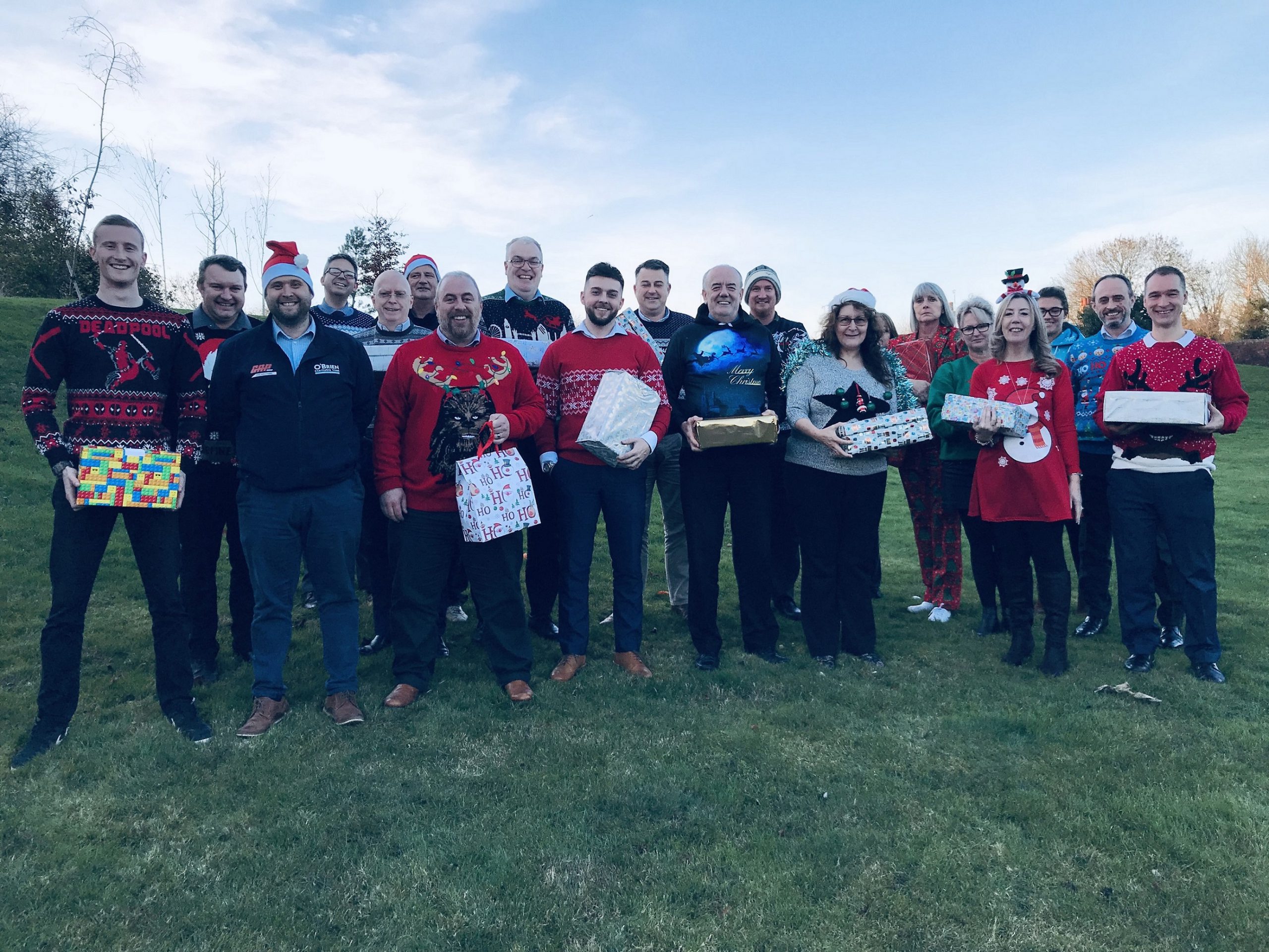 SMASHED IT! STAFF AT O'BRIEN CONTRACTORS RAISE ANOTHER £30,000 FOR CHARITY!
The staff at OBCL have repeated last years success and raised £15,000 from a series of organized events and challenges throughout 2018. Because the staff reached their target, O'Brien Contractors Limited generously matched the sum raised by staff, making a fabulous total of £30,000 for the O'Brien Charitable Trust good causes.
Events were organised throughout the year by our hard-working charity committee, made up of 7 members of staff, who work tirelessly throughout the year, organising events to raise much needed funds for our chosen charities. The events are enthusiastically supported by all staff and this year's events, have included:Christmas Jumper Day – Which is very competitive!
Movember – Even the girls joined in with fake moustaches!
3 Peaks Challenge – Staff took to the hills!
Wolf Run – Staff got stuck in on the very wet and muddy course!
Charity Golf Day / Charity Auction – Staff took on our suppliers raising £8,523!
Site to Site Walk – Trekking 12-miles from our project site in Gaydon to Cubbington.
The charities that will benefit from this year's fundraising events include:
Helping Hands Community – Helps local people in need
Molly Holly Wishes – Supports children with terminal & life-threatening illnesses
Warwickshire & Northamptonshire Air Ambulance – Rapid emergency response
Doorway Youth Homelessness – Supports homeless & vulnerable 16-25-year olds
Young People First – Works with disadvantaged & vulnerable young people
Guys Gift – Supports bereaved children
A special mention for their hard work and efforts to Kelly Davis, Michael Hughes, Berwyn, John Maxwell, Hessy Fakatou and Daniel Taylor, who have worked tirelessly throughout the year and whose huge drive for success have been instrumental in helping us reach our £15,000 target in 2018.
OBCL Managing Director, Peter O'Brien said: 'We would like to thank everyone who participated and contributed to the success of us reaching our target again this year, everyone's hard work and generosity enables us to donate much needed funds for good causes. We are looking forward to some fun activities in the new year to help us hit our target again for 2019.'
If you would like more information on the O'Brien Charitable Trust and our events, please click on our link for more information https://trust.obriencontractors.co.uk.
If you would like to make a donation to the trust, there is a very easy payment facility on the Charitable Trust Weblink above, where you can make a donation and leave a message, or if you prefer you can make an anonymous donation.