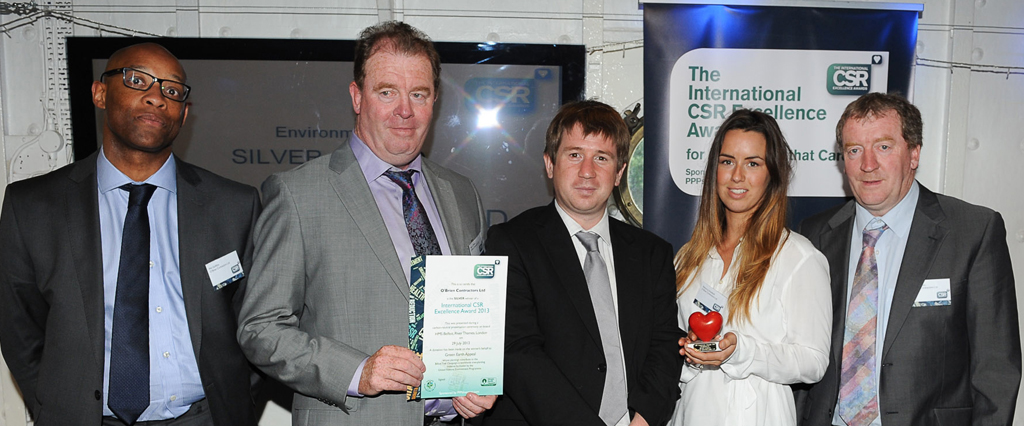 O'Brien Contractors, a specialist civil engineering firm providing best-practice, cost-effective design and build services for a wide range of construction projects, has won a Gold International CSR Excellence Award in the Building & Construction Category.
The awards recognise companies that commit to making a positive, beneficial impact on their customers, their suppliers, their employees and their families, and the communities they work in.
The Gold level of award that O'Brien won was announced at the awards ceremony on HMS Belfast on Monday 29th July.
Peter O'Brien, Managing Director at O'Brien Contractors said: "We are delighted to have won this award. As a company we are completely committed to providing the best service to our customers, being the best employer for our staff and making a positive impact on the communities where we deliver projects."
"So far 2013 has seen us create new jobs in the region and win the Constructing Excellence SME Award for the West Midlands region. This additional recognition of our efforts shows that we are on the right track to achieve all of our goals."
O'Brien Contractors has continued its support of local communities with the sponsorship of both Leamington RUFC and Cubbington Albion FC, after a tough year both the clubs required financial backing to enable them to look to their seasons ahead.
Ryan Cranton, FA coach at Cubbington Albion Juniors FC said: "Unfortunately, due to running costs at our club were on the brink of folding all junior teams, however we are now looking to build a solid foundation this season with U11 and U12 teams which will see us move forward in forthcoming seasons to add additional age groups. This has only been possible with the support of local businesses such as O'Brien's and for this we are hugely grateful."