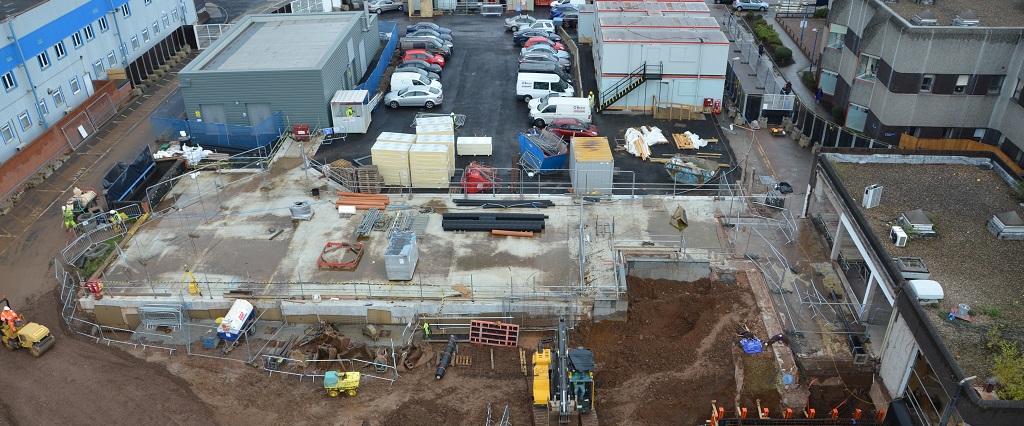 O'Brien Contractors has been appointed to work on the construction and redevelopment of an emergency department at New Cross Hospital for the Royal Wolverhampton NHS Trust.
The development is part of a £30m major healthcare upgrade to bring all emergency services, currently spread out across the hospital site, under one roof. The scheme is being funded under the ProCure21+ framework and will provide additional capacity, a new A&E department, wards and admin space.
Appointed by main contractor, Kier Construction, O'Brien will deliver a range of enabling and ground works in a live hospital environment – including bulk excavation to remove in excess of 5000m3 of spoil, drainage diversions in excess of 5m deep through blue routes and reinforced concrete alteration works to existing service tunnels.
Phil Griffiths, Commercial Director said: "The new centre is a very important emergency healthcare facility for Wolverhampton and we are delighted to be delivering enabling and groundworks for the Royal Wolverhampton NHS Trust."
Reinforced concrete sub structures including: lift pits and switch room, a ground floor slab, reinforced concrete works to upper floors, as well as the external works: roads, car parks and footpaths, are also included in the package.
"We are operating in a live hospital environment with a tight and challenging programme. However, our early involvement in the project and close collaboration with Kier's, has enabled us to plan thoroughly, identify gaps in design to ensure our works are delivered with minimal disruption to hospital operations and patients."
Matt Pugh, Senior Project Manager of Kier Construction said: "We have been very impressed with the professionalism shown by O'Brien in all areas from the help and assistance they provided pre contract, through to planning, rationalising of scope and execution of all their tasks on site. This is the first time we have worked with O'Brien's, but we already consider them a key member of our supply chain and we will benchmark our other groundworkers against their performance."
O'Brien is currently on site with a planned opening date for the new department of November 2015.