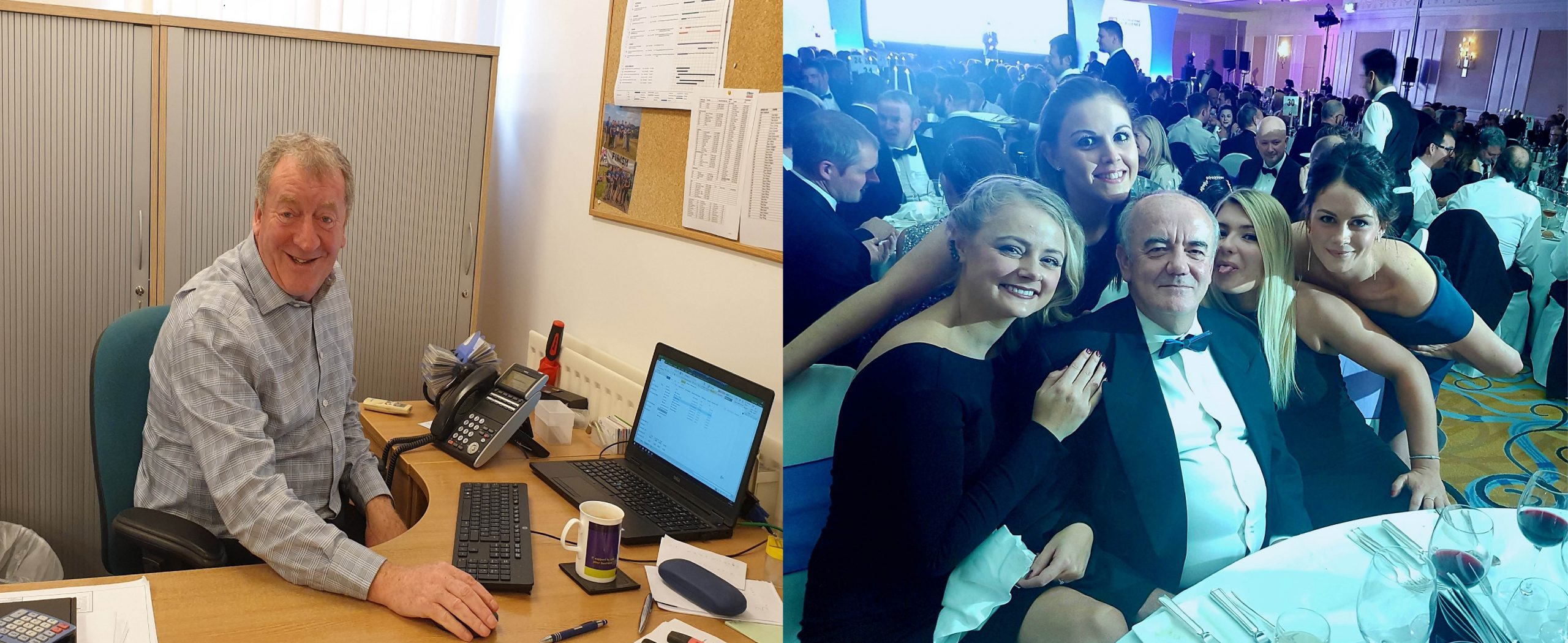 Mick O'Brien – Director Retires after 40 Years
After nearly forty years and having given virtually all of his working life to O'Brien Contractors, Mick O'Brian hung up his work boots and retired at the end of December 2020.
During his 40 years within the business brothers Mick and Peter O'Brien have enjoyed a longstanding and successful business relationship, to build one of the most recognised companies in the midlands, renowned for quality, professionalism and quality performance, growing the company from a £30k turnover in the early 1980's to £30m turnover in recent years.
During his time as a Director at O'Brien Mick has seen many changes over the years, particularly with machine technology which Mick embraced, having worked from the ground up whilst the business was growing in the early days.
Mick headed up the plant department and ours Sports Division.  Mick has always had a passion for machinery and plant and ensured that the company has always been at the forefront with new machine technology, forming a pioneering relationship with Spectra Precision in the 90's who specialised in geospatial technology, testing and developing machine automation on Dozers at a time when Spectra Precision were the only company worldwide to develop such systems. We were the first company in Europe to trial this system, which Mick embraced and during the last twenty years, these systems have revolutionised the construction industry and particularly earthworks projects.
With Mick heading up the plant and machinery division of the business and being passionate about machine technology, today we run 6 dozers with machine control and twenty of our 35 excavators with machine control and very sophisticated earthworks software enabling advanced design and earthworks balancing calculations providing information at the touch of a keypad.
Mick will be missed from the business and has now gone to enjoy his well earned retirement to embrace his other passions outside of the construction industry.
Peter O'Brien commented
 "I would like to thank Mick personally for all the years together and the loyalty and honesty where we have being friends and brothers along with business colleagues".
Tony Murray – Accounts Manager Retires after 19 Years
 Having devoted over 19 years to O'Brien's Tony Murray decided to retire from the end of December 2020.
Tony commented:
"My first experience of working at O'Brien was as part of the audit and accounts team for Murphy Salisbury.  Everyone was friendly and it was a great place to come to. I didn't need to think twice when Pete and Mick gave me the opportunity to join the company on a permanent basis in 2002. I shall always be grateful to them for their help and support in that time.   The last 19 years have flown by and it has been amazing to see how the company has developed in that period, the product of Pete and Mick's vision and the hard work and dedication of everyone connected with the company.
I just wanted to say a massive thankyou to everybody for the send-off you have given me.  It just proves how lucky I have been to work here with such a great crowd of people. I'm knocked out.  I want to thank everybody at the company for being part of the last 18 years, for the laughs and for putting up with me. Thanks again and good luck for the future. I am really going to miss the people and the place.
Peter O'Brien commented:
"Tony joined O'Brien's in 2002 when we were turning over Four million pounds annually.  At that time he was the only person in accounts. Tony has played a significant part in our growth to a Thirty five million pound turnover business.
Tony's loyalty and wish to support us has being unquestionable throughout the whole of his 19 years with us. On behalf of myself, Mick and the other directors I would like to thank him for his support throughout the time he has been part of the team and wish him good luck in his retirement."