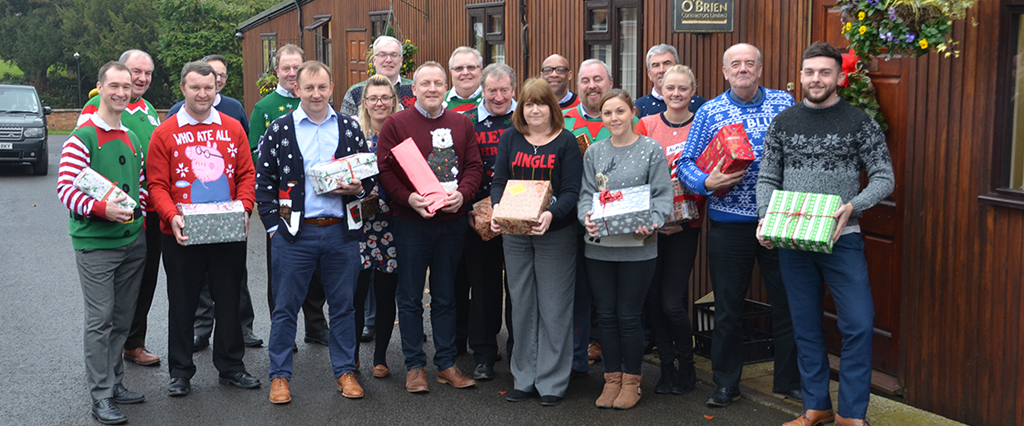 Staff from leading groundworks and civil engineering specialist, O'Brien Contractors, have shown their support to the Way Ahead Project in Leamington Spa by raising money and donating Christmas gift packs during their Christmas Jumper Day.
Part of the Salvation Army in Leamington Spa, the Way Ahead Project provide a Christmas meal and all year support for people who are homeless, having difficulty overcoming alcohol or drug addiction or struggling with mental health.
Peter O'Brien, Managing Director, O'Brien Contractors, said: "I'm very proud of the team for being supportive of these events that raise money for good causes. The Way Ahead Project provide fantastic support, helping some of the most vulnerable people in our local community turn their lives around."
Since 2013, O'Brien Contractors has backed a number of local and national charities to the tune of £48,000, through sponsorship or organised events, including: Help for Heroes, British Blind Sport, ILEAP, Alzheimer's Society, Cystic Fibrosis Trust, Cancer Research and the British Heart Foundation.
"Next year, we have ambitions plans to raise a whole lot more through organised events and I'm pleased to announce one of the charities we will get behind is Zoë's Place, a baby hospice in Coventry."
The charity Christmas Jumper Day raised just over £150 and 22 gift boxes were donated.
If you would like to donate to the Way Ahead Project, visit: www.justgiving.com/Wayaheadproject