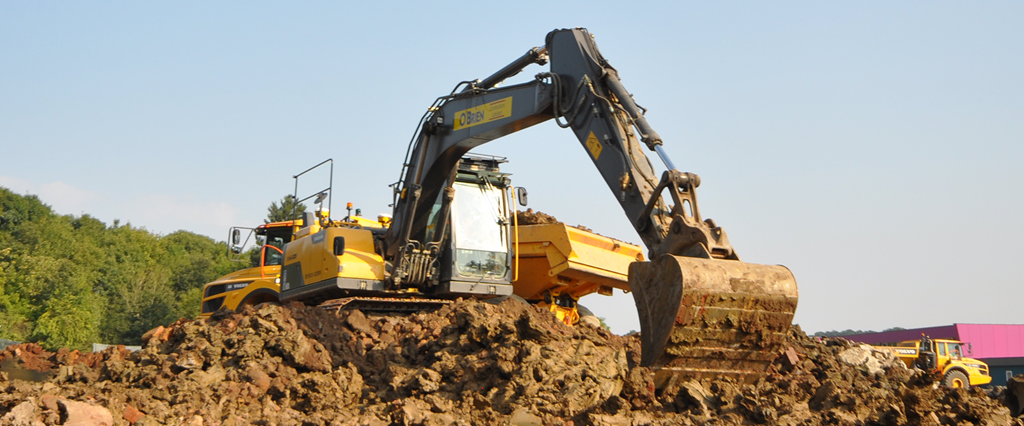 If your boss gave you the choice of travelling a minimum 5 hour round trip in the car, or to make that journey in 5 seconds at the click of a button, what would you choose?
Well, for engineering surveyor, Gareth Price and his team at civil engineering and groundworks specialist, O'Brien Contractors, that choice has become a reality, thanks to director, Mick O'Brien, whose investment in 3D machine control and Trimble Connected Community software, has dramatically reshaped the business.
In order to understand how the solution works, Finning News took up the offer from SITECH UK and Ireland's Zoë Adnitt, to visit Mick at a new sports pitch project in Romford and then travel to O'Brien's head office in Leamington Spa, all in one very long day.
The project itself involved the creation of a brand new 3G sports pitch and a multi-use games area (MUGA), constructed next to an existing sports centre. With very tight tolerances required to meet the exacting standards for the pitch, before the job was secured, the surveying team carried out an in house survey, modeled the whole project in 3D and then monitored it throughout the earthworks programme, as Mick explained:
"Having proven the benefits of machine control on previous sports pitch projects, we have now gone to the lengths of setting up a new specialist division for this type of work.
"So in practical terms, our first aim with any project is to try and ensure that no material leaves site, eliminating the need and cost of truck movements. This is achieved by recycling good quality soils and designing in features like earth bunds to use material that would normally be classified as inert waste.
"Our challenge throughout this process is that we have to stick as closely to our design as possible, but you never truly know what you will unearth or how materials will compact, until you actually start doing the job.
"This is why you have to be on top of a project from day one. Typically before GPS enabled 3D machine control, we would have had to send a member of our team down to site on a very regular basis, which is a costly exercise when a round trip is 5 hours. This was the reason that prior to our investment in this technology, we tendered for jobs much closer to our base in Leamington Spa.
"This was obviously quite restrictive to our growth, especially in the more specialist sports pitch market. So by using two-way communication through the Trimble technology using the GPS network, the machines are able to tell us what they have been doing and we can see the daily progress onsite at the touch of a button.
"Equally, we can see the all important levels being achieved and therefore continually update our calculations around material movements, settlement and compaction. This means that Gareth, our engineering surveyor, can make relevant adjustments to the 3D model from his desk, delivering changes to the individual machines onsite, at the touch of a button, via the Trimble Connected Community.
"So what would be a round trip of at least 5 hours to our latest Romford project to upload a file from a memory stick or complete a survey using older techniques, is a 5 second file click and drag process, which is then sent through the cloud.
"In commercial terms, this approach has totally changed our capabilities and more importantly for the customer, changed the way a project is delivered. Our customers get a 3D design matching high quality finish, reduced truck movements, which pleases the local residents and a faster job, at a fixed competitive price.
"It really is a win win for both parties and a transformational journey from regional to national contractor for our business, I honestly don't know how we could run a profitable job without it."
So if you've got an earthworks project you're looking to start, click here to talk to us about how we can help you generate cost and efficiency savings.