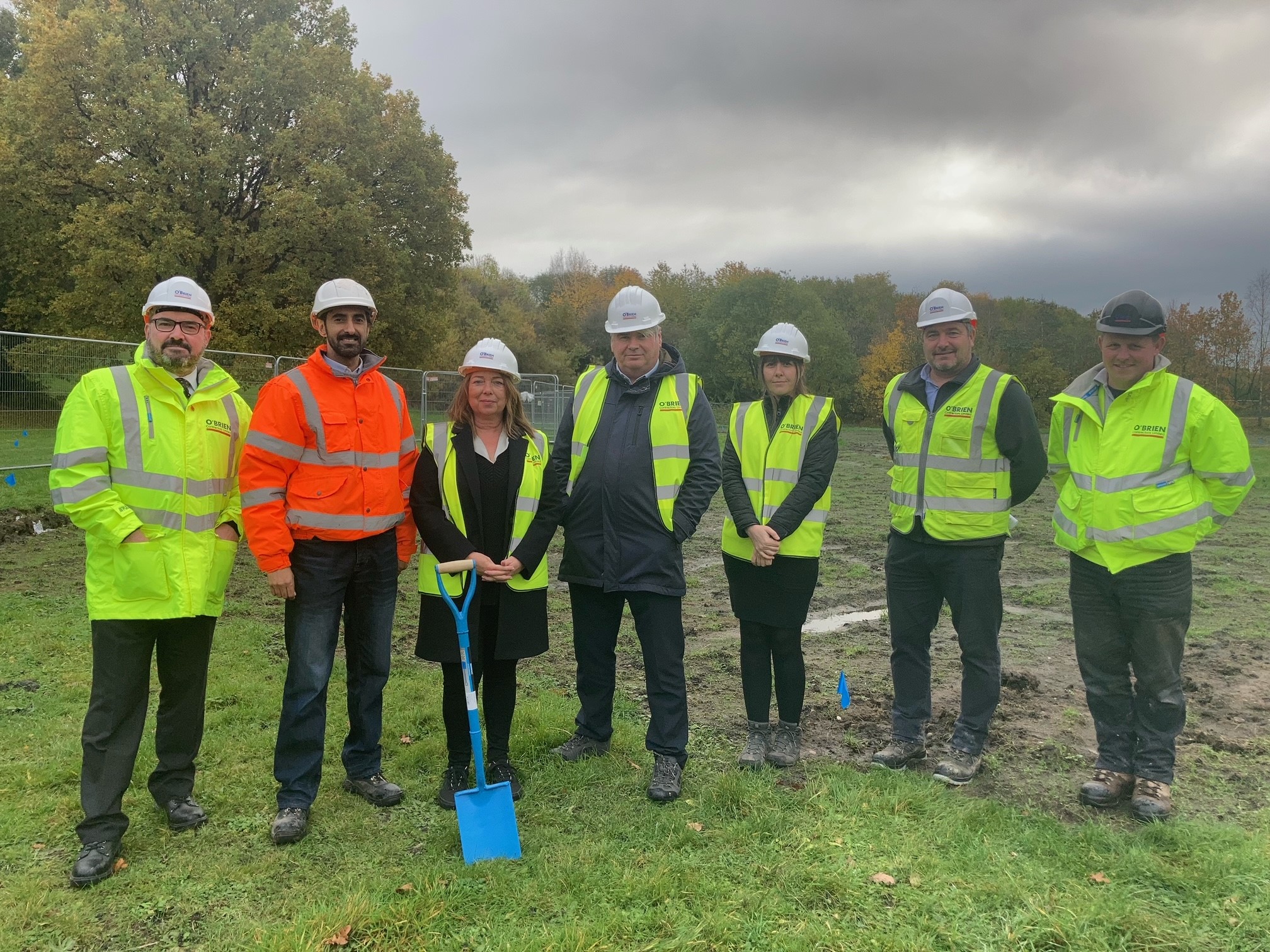 O'Brien Contractors are proud to be working with Sandwell Council on this important and sensitive project.
Sandwell Council Press Release:
Name of New Cemetery Revealed as Work Begins 100 years After First Burial at Neighbouring Cemetery
Work has begun to create a brand-new cemetery and improve open space in Rowley Regis.
The name of the new cemetery has also been revealed – almost 100 years to the day the first burial took place at neighbouring Rowley Regis Cemetery.
Sandwell Council's £2.2million project to create Canalside Cemetery and Open Space just off Powke Lane is set to be completed next year (2022).
The new cemetery is on land opposite the existing Rowley Regis Crematorium and Cemetery, where the first burial took place on 21 November 1921. Fifteen-year-old shovel maker Clifford Blunt of Old Hill was the first person to be buried there, records show.
The new cemetery, which is being constructed by O'Brien Contractors Ltd, will provide burial space for Sandwell residents for decades to come.
The project includes improvements to the open space around the new cemetery, areas near the canal walkway – from which the cemetery will take its name – and ecological improvements.
Local companies and contractors are working on the site, including staff who live within walking distance of Powke Lane and Black Country-based suppliers.
Sandwell Council's cabinet member for neighbourhoods and communities Councillor Kerrie Carmichael said: "The new cemetery will take up less than 30 per cent of the green space, and the rest of the area will still be open to the public for walks and other activities, which we know is really important to the local community.
"Work will be carried out sensitively, minimising disruption to residents where we can. We'll be focusing on not only improving the open space around the new cemetery, but also boosting the ecological value of the site."
Deputy Leader of Sandwell Council Councillor Maria Crompton said: "This new cemetery is so necessary for Sandwell as we are rapidly running out of burial space. Rowley Regis Cemetery is now close to capacity, having been in use for exactly 100 years.
"Without this new site, we're facing the possibility of families being unable to bury their loved ones here in the not too distant future which would be heart-breaking for them."
Stuart Chamberlain, Executive Director at O'Brien Contractors Ltd said: "We are delighted that Sandwell Council has turned to our groundworks and civil engineering expertise to deliver Canalside Cemetery in Rowley Regis.
"Once completed, the cemetery will provide a beautifully landscaped and peaceful resting place for loved ones and for those visiting to pay their respects."
Plans for the site include not only the creation of space for burials, but also an office building, toilets for staff and mourners, installation of CCTV, car parking and an improved and much safer entrance off Powke Lane to the new cemetery and open space.
Work on the new cemetery will see more than 70% of the existing green area remain as public open space.
Public rights of way will also be maintained across the site once the cemetery is completed, but currently remain temporarily closed while construction is under way.