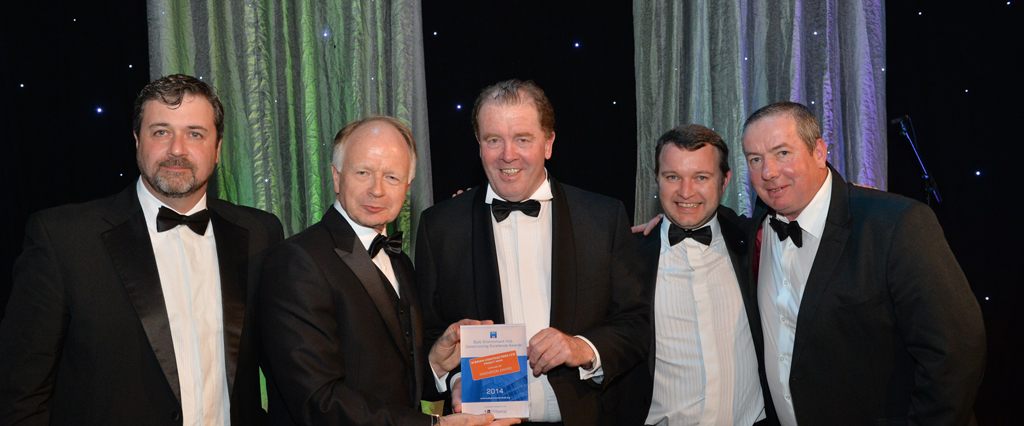 In the latest of a long line of business award successes, O'Brien Contractors has won two more prizes at the 2014 Celebrating Construction Awards. The company was chosen as the winner in the Innovation category and also received the Value Award.
Both awards are for O'Brien's Dove Project, which saw it deliver a £10m groundworks and civil engineering package in December 2012 for Nestle's new production complex in Staffordshire.
What made the project stand out for the judging panel is that when O'Brien surveyed the site ready for their January 2013 start they discovered that the originally tendered design was no longer feasible, due to 2012 being England's wettest year on record. Ground conditions had seriously deteriorated and both the cost and programme for the specified works had extended considerably. But Managing Director, Peter O'Brien, used his experience and value engineering approach to lead his team to an innovative solution that saved money and time as well as delivering the project to its original programme, dramatically reducing safety risks on site, saving tonnes of materials from going to landfill and reducing the whole life cost of the site's infrastructure.
Managing Director, Peter O'Brien said: "We are thrilled that the dedication the team showed to resolving these issues in a way that didn't cost the client more money, and also protected the environment, has been recognised. Our approach to business is one of continual improvement and we really put this into action with this project."
The original design required OBrien's vehicles to pass through Nestle's existing factory complex intermingling with their own traffic and employee's pedestrian routes. Specified works alone required at least 9000 20T lorry movements. Over 40,000m3 of spoil was to be taken off site and transported to landfill as it was not suitable for re-use, with an estimated 270,000 miles of haulage (16.5T CO2).
O'Brien's value engineering experience led them to come up with a new solution that was the ideal option due to the changing water conditions. The new solution used lime stabilisation to avoid taking the spoil off site, created stable conditions for alternative site road access, working hard standings for the construction works and stable conditions for buildings, roads and yards required in the final development – and at a reduced cost with no time delays.
All stakeholders -– Nestlé, John Sisk & Sons, Faithful+Gould, and specialist subcontractor TR Stabilisation – agreed that the solution delivered benefits for the project cost and programme but also to the environment, safety and the local residential neighbourhood.
Peter O'Brien said: "We are looking forward to delivering more successful projects throughout 2014 and will continue to pursue our goal of continual improvement so that we can deliver the best possible service for our customers, and remain an employer of choice for the best construction professionals in the industry."