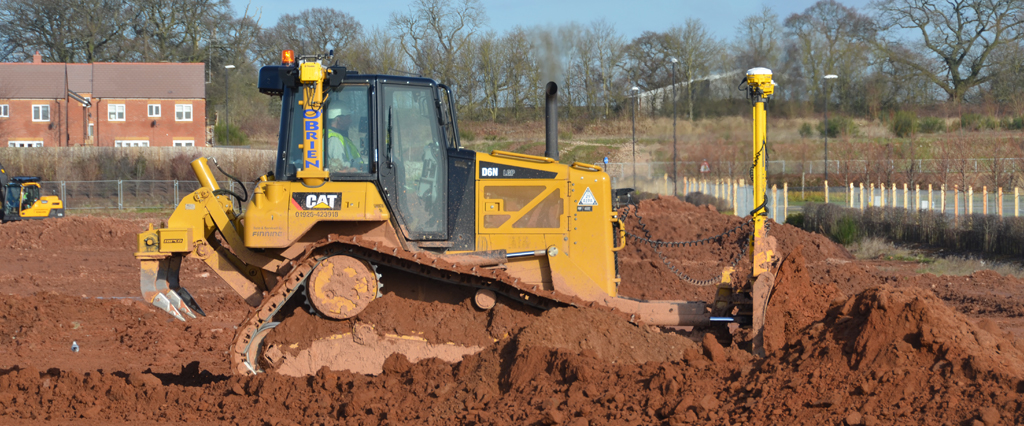 Since its formation in 1958 by Tom O'Brien, the father of current directors Peter and Mick, specialist civil engineering and groundworks company O'Brien Contractors, based in Leamington Spa has been at the forefront of embracing new technology.
For Peter and Mick O'Brien, a focus on developing the use of Trimble machine control systems since the late 1990s, has seen the business grow its capabilities across its mixed fleet of excavators and dozers.
Having recently trialled the latest machine control technology on a compactor with Trimble solutions provider SITECH UK and Ireland, Mick O'Brien has a clear focus on how O'Brien Contractors will continue to take advantage of the technology to maximise productivity, as he explains: "From the very early stages of machine control, we recognised the commercial advantages it could offer us as a business, investing time with Trimble to develop the early solutions.
"It has been this long term journey, now continuing with Trimble dealer, SITECH which has seen us build our fleet to incorporate six dozers, twelve excavators and more recently trial the latest in compactor technology.
"For me, most people looking at machine control tend to focus onsite, whereas through our experience we know the real value lies in preparation in the office, prior to starting a job. This is why a few years ago we employed a dedicated machine control specialist. From tender stage, he liaises with our estimating team to work out volumes and look at the overall project, to see where value-engineering opportunities exist, carrying this work through when the project starts.
Even though this is a lot of investment in time before you are even awarded a job, it ultimately contributes towards a greater understanding of the project which leads to improved planning. With clients also wanting us to react very quickly when we are awarded projects, our machine control expert has the capabilities to model the earthworks required and feed this information directly into the machines, even when they are on route to site.
"So instead of engineers being dispatched to do the setting out, the machines can be operating within minutes of arriving at the job.  Even if the earthworks models change as the project moves forward, we can send the updated drawings and technical data straight to the machine.
"Of course the key to making this work is the interaction between operator and machine and this is why our expert is also tasked with training and supporting our drivers, with help from SITECH. Interestingly, you may think that machine control would be harder to introduce to older operators, but this is just not the case, as our most experienced people are in their 60's and have found it very simple to make the transition.
"Having recently worked with SITECH to trial a compactor with machine control, I can definitely see how we can continue to expand our machine control fleet and capabilities. But for me the next step is all about utilising two-way communications, by receiving and processing data from individual machines activities.
"For our business this will be extremely important, as our clients expect us to report on site progress and this can be done in the future without leaving the office. For example, in the last 12 months we have kitted out eight excavators with machine control and can now receive data from the machines activity.
By knowing just how much of the workload each machine has achieved and the time taken, we can plan activity much better, keeping the job on track. Equally because of the partnership we have with SITECH, for certain jobs, we may choose to hire in equipment for the duration. The benefit of this approach is that we can still integrate these machines with our head office, by hiring equipment from SITECH and fitting it to the hired machine.
"I definitely think we will now see much more demand for information on earthworks from main contractors, especially as more people are challenged to meet carbon targets. In my opinion, even when you compare older machines with newer fuel efficient models, if you get machine control right and therefore the job right, it will have a much bigger impact on fuel efficiency than simply operating a new machine."