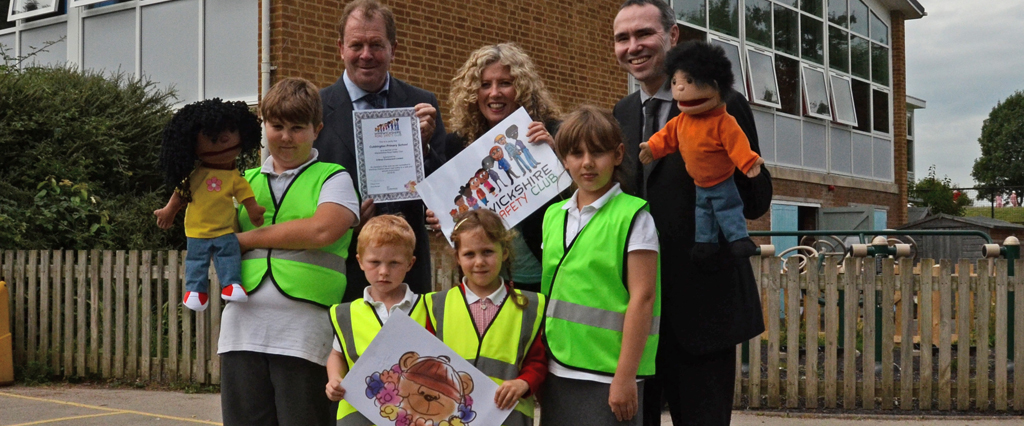 We are delighted to have agreed to sponsor two Leamington Spa based schools to help provide essential road safety education to local pupils.
From September, the way that road safety in Warwickshire is delivered in primary schools is changing. All schools have the opportunity to sign up to the Warwickshire Road Safety Club, but most will now need to pay for the road safety education they receive. However over the past few months Warwickshire County Council's Road Safety Group have been contacting Warwickshire businesses to encourage them to sponsor road safety in their local primary schools.
Our support will enable Cubbington Primary School and Our Lady & St Teresa's Primary School to have the complete Warwickshire Road Safety Club package, which includes the popular Warwick the Bear roadshow for 5 year olds, Kerb Safe pedestrian training  for 6 – 7 year olds and the Junior Road Safety Officer scheme for 10 – 11 year olds.  Other activities include assemblies and classroom sessions from a Road Safety Officer.
Managing Director Peter O'Brien recently visited the school to find out how road safety education can benefit the local community. Mr O'Brien, said: "Having been educated at Our Lady and St Teresa's Primary School, along with my two brothers and company Directors, Mick and Simon, we welcomed the opportunity to play our part with Warwickshire County Council and the two schools."
"The O'Brien family has been part of the local community since the 1950's when our father and mother moved from Ireland and made Cubbington their home.  My father formed O'Brien Contractors over 50 years ago and the village has been the location for its headquarters ever since, benefitting from employing many local and highly skilled people."
"The importance of road safety cannot be stressed enough and as a significant employer in the area, we welcomed the chance to get involved in the road safety scheme, ensuring the welfare of the young people in Cubbington."
Juliet Jones, Headteacher of Cubbington CE Primary School, said: "We are absolutely delighted the O'Brien's have chosen to fund our Road Safety Club membership.  Road safety education is vital at primary school to prevent accidents from happening and to teach children important skills that will serve them well throughout their whole lives. "