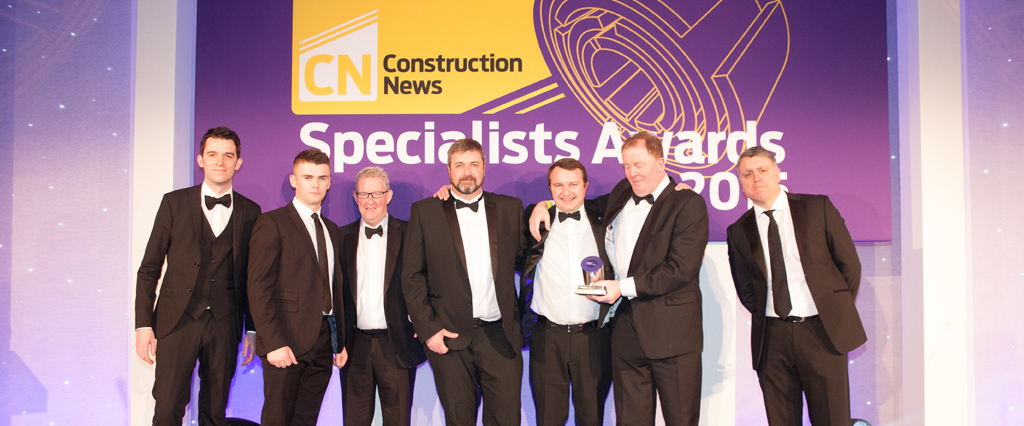 Leading groundworks and civil engineering contractor, O'Brien, has been awarded the prestigious Specialist Contractor of the Year (turnover up to £25m) prize at the Construction News Specialists Awards.
The title is awarded for creating an impressive strategic plan in response to the recent economic downturn, diversifying into new work streams and targeting higher value projects.
The Awards judges said, "O'Brien Contractors were able to demonstrate that they are successfully implementing a plan through investment in training and development."
In 2009, the company's turnover was £11m with profit only £73k. Its plan to invest, diversify, train, overhaul processes and focus on risks and opportunities has increased average project value from £463,000 to £874,000 during 2014 and turnover up by 68% over 5 years.
The judges were particularly impressed with the level of investment in new and innovative plant and equipment to support the productivity of the business. O'Brien has invested over £4 million in new plant, technology and training programmes, delivering on its commitment to improve efficiency and reduce ongoing costs.
O'Brien were also commended for the results of the strategic plan which led to a strong portfolio of projects and customers as well as an impressive improvement in both top line and bottom line performance – major projects include: Marks and Spencer in Longbridge, Birmingham for Morgan Sindall, New Cross Hospital Emergency Centre in Wolverhampton for Kier Construction and Jaguar Land Rover's Engineering Facility for Galliford Try in Gaydon.
Peter O'Brien, managing director, O'Brien Contractors, said: "We have always believed that a strong investment in our people and technology are important in helping to stand out from the crowd and be recognised as a leader in our field. This has proven to be a winning approach and this national Award recognises the hard work, commitment and dedication of the whole O'Brien team."
Read the Construction News Specialist Awards 2015 judges write-up, click here.