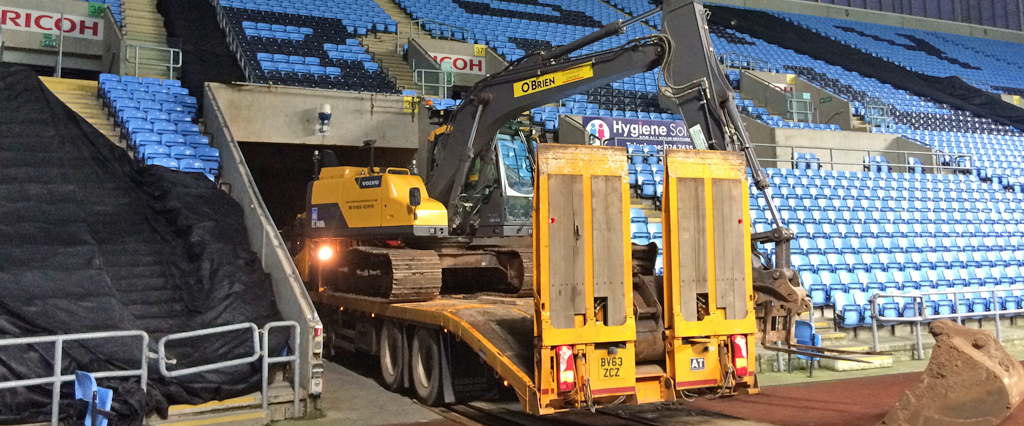 O'Brien Contractors, winner of Construction News Awards 2014: Tomorrow's Company, has partnered with leading European sports pitch specialist, GreenFields UK, for the installation of a new playing surface at the Ricoh Arena in Coventry.
The sports contractor secured the contract with GreenFields UK through its track-record of providing successful pitch installations for organisations, including: Oswestry School, Eastbourne Hockey Club, Kewford Eagles FC and Aston University.
The project at the Ricoh Arena involved site preparation works to remove the existing 8000m2 playing surface before GreenFields UK installed the new natural turf, farmed in the Netherlands. Works started on 5th December and was completed ready for Coventry City's home league game with Fleetwood Town on 20th December.
Aviva Premier League side, London Wasps, had initially announced its intentions to replace the current pitch during the summer to provide a playing surface suitable for the demands of both rugby and football matches, however, following a consultation, the rugby club decided to lay an interim pitch to ensure both Coventry City and London Wasps had a surface required to give them the best chance of success.
O'Brien Contractors is the first and only large civil engineering firm able to offer turnkey solutions for a range of sports pitch installations, delivering projects ranging from athletics tracks, football pitches though to hockey and rugby pitches. This capability is all maintained in house – with no outsourcing required – by a team of experts with a proven track record of delivering design and build sports projects to a diverse range of exacting client specifications.
The sports installations that we deliver include natural sports pitches, such as those used for rugby, football and cricket, and synthetic and Multi Use Games Area (MUGA) pitches with surfaces suitable for just about every sport and user, from professional sports teams to schools and communities.