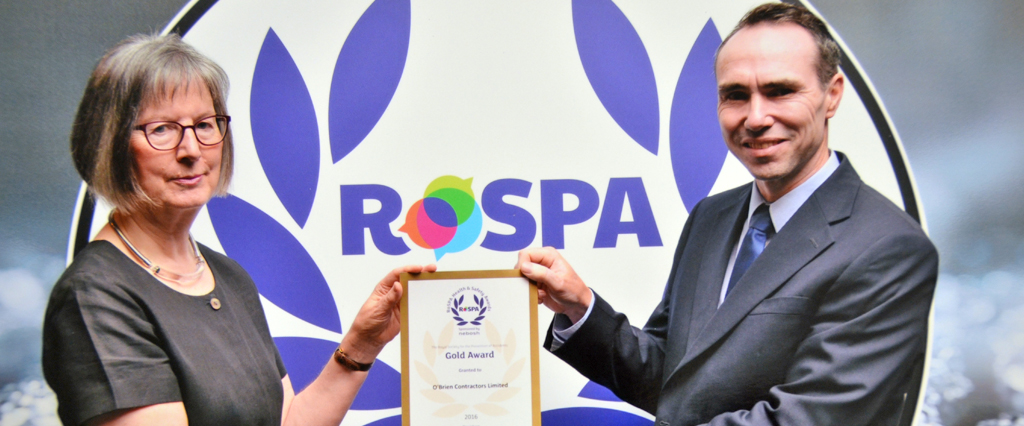 We have scooped our third RoSPA Occupational Health and Safety Gold award.
The RoSPA Awards is celebrating 60 years of presenting highly-regarded and sought after accolades to businesses and organisations which have shown commitment to accident and ill-health prevention.
The prestigious title is awarded for demonstrating overarching occupational health and safety management, including: strategic vision, risk assessment, workforce involvement and training.
Julia Small, RoSPA's head of awards and events, said: "To win an award at such a highly-regarded event as the RoSPA Awards is a great achievement for O'Brien Contractors. It recognises their commitment to maintaining an excellent health and safety record and raises the bar for other organisations to aspire to. We offer them our congratulations."
The company, based in Leamington Spa, achieved gold in recognition of the commitment to continuous improvement in protecting its staff, subcontractors and the local public, resulting in:
Staff receiving an average of 3.78 training days – mainly for health and safety
100% of site operatives completing a CSCS safety course and holding a CSCS card
80% of site operatives qualified to NVQ 2+ standard
However, the greatest success came from across the eight high profile schemes secured last year, including: New Assay Office, Longbridge Town Centre Phase II, Number One City Locks, New Cross Hospital, Aston Student Villages, Burton Hockey Club, i54 Manufacturing Facility and Lyons Park, all achieving zero accidents spanning 211,786 man hours.
Peter O'Brien, Managing Director, O'Brien Contractors, said: "Winning three straight Gold awards is a real achievement and recognises the commitment and effort applied by our team to ensure high standards are maintained across all of our sites."