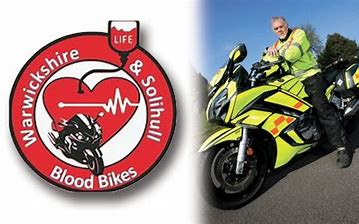 After a request from a member of WSBB we were happy to help this fantastic organisation by giving a donation.
Smaller charities are being significantly affected by the COVID-19 crisis, as they are currently unable to carry out fundraising activities to raise money and are reliant on donations.
See below to understand how Blood Bikes save lives everyday of the year and how you can donate to help them carry on their great work or become a volunteer.
O'Brien Contractors have made a £300 donation to Warwickshire and Solihull Blood Bikes.  As well as assisting charities through our O'Brien Charitable Trust at the beginning of each year with money raised throughout the previous year, O'Brien Contractors Ltd also make donations throughout the year to various causes.
RIDING TO SAVE LIVES – What They Do…
Warwickshire & Solihull Blood Bikes are a team of 80 volunteer rider and drivers who are dedicated to providing a weekday out of hours service and 24/7 weekend and Bank holiday cover supporting the NHS in transporting essential Plasma, Tissue Samples, Spinal fluids, X-Rays, Licensed drugs and any other products than can be carried safely on a motorcycle to hospitals throughout the Warwickshire & Solihull area.
Help by Donating to WSBB  
WSBB have had to currently stop all fund raising to fall in line with government guidelines regarding social distancing. Therefore they have NO funds coming into the charity. To help support WSBB donate via their Virgin Money Giving page.
To make a donation click on the link:
https://uk.virginmoneygiving.com/donation-web/charity?charityId=1013499&stop_mobi=yes
To Volunteer
The WSBB still very much welcome contact from those keen to volunteer now and after the pandemic subsides, To apply click here for further information.