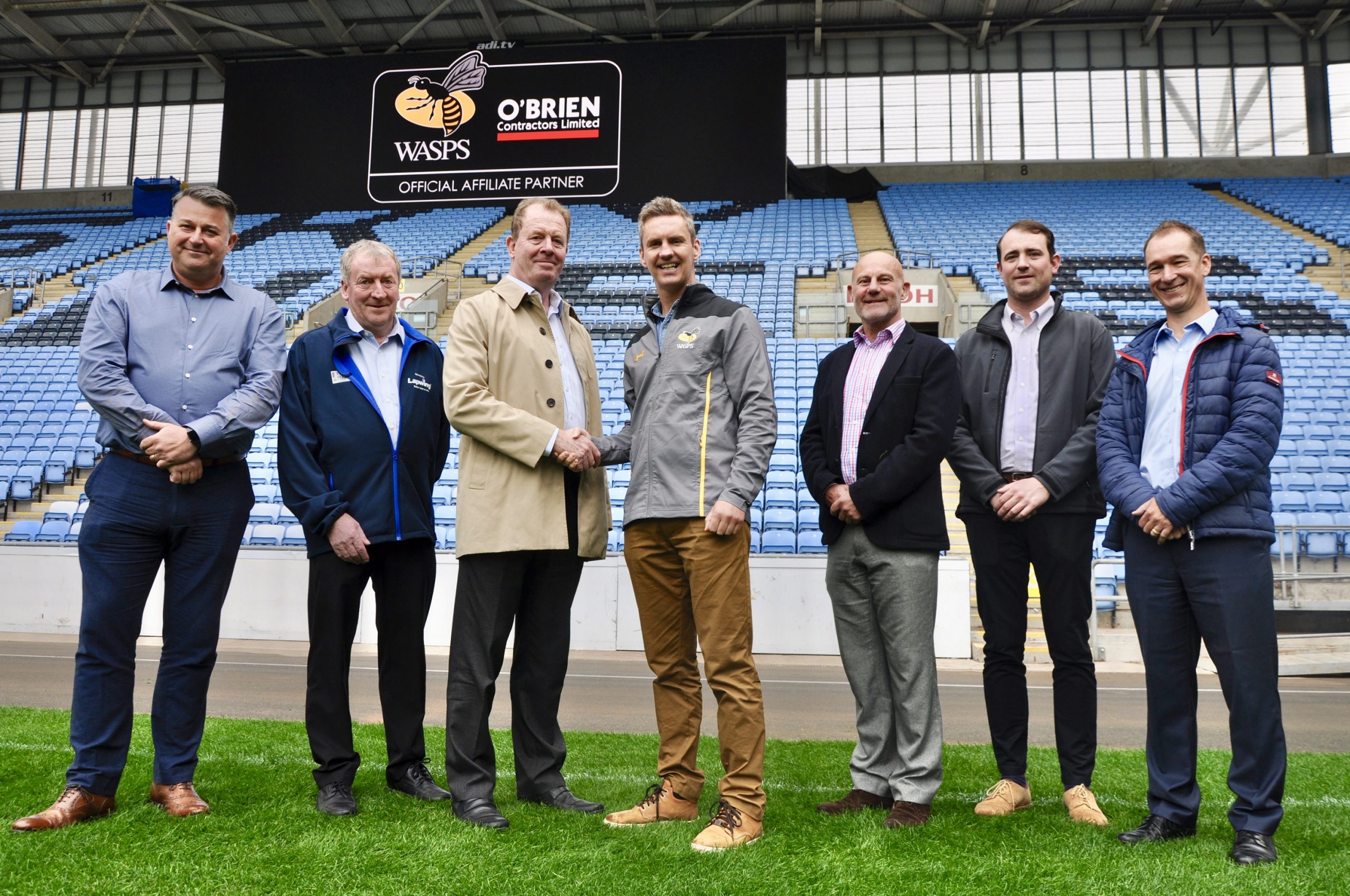 WASP'S AFFILIATE PARTNER MEMBERSHIP FOR THE SECOND YEAR RUNNING
In September 2019 O'Brien Contractors signed up for the Affiliate Partner Membership for the second year running. This gives O'Brien exposure on Ricoh Arena's new giant 188-square-metre LED screen and around the stadium on Wasps matchdays, as well as exclusive ticket offers for staff and access to hospitality packages along with pitch side branding.
Stephen Vaughan, Chief Executive at Wasps, said: "Having O'Brien join our Affiliate Partner scheme is fantastic news and adds to our growing list of local and national businesses wanting to use Wasps as a vehicle for their customer or staff engagement for the 2019/20 season.
"O'Brien Contractors are highly-regarded within the development and construction industry and we look forward to welcoming them throughout the new campaign."
O'Brien Contractors are a multi-award-winning civil engineering contractor with over 60 years of experience in the UK construction sector.
The business has been a part of the Midlands development and construction industry since 1958 when the company was founded by Tom O'Brien, the father of current Directors, Peter and Mick O'Brien.
Peter O'Brien, Managing Director at O'Brien Contractors, added: "Having enjoyed our first season as a Premiership partner of Wasps Rugby, it was a straightforward decision by O'Brien to not only renew their premiership partnership for another 12 months but to increase support with the unique opportunity of a dining table in the boardroom for all matchdays.
"Our association with Wasps has had a marked effect on the O'Brien businesses through the excellent media coverage. The opportunity to entertain our guests and meet with other like-minded business leaders in the boardroom whilst watching top-flight rugby was an opportunity we had to seize.
"O'Brien's strategy of providing turnkey solutions for their clients with proven consistency continues to be a great success. Delivery of projects to the highest of standards for clients through jointly-developed budgets minimises their exposure to commercial and programme-related risks. Our policy of nurturing in-house, homegrown talented employees, provides the experience and enthusiasm that sets O'Brien Contractors apart from other construction businesses.
"The Wasps sponsorship is the most significant taken out by O'Brien Contractors and gains them great exposure through the huge LED screen and public association with Wasps Rugby. It is a great form of branding which, when coupled with the long-established sustainable business planning by O'Brien Contractors, highlights the great opportunities for both businesses to work together for the future.''