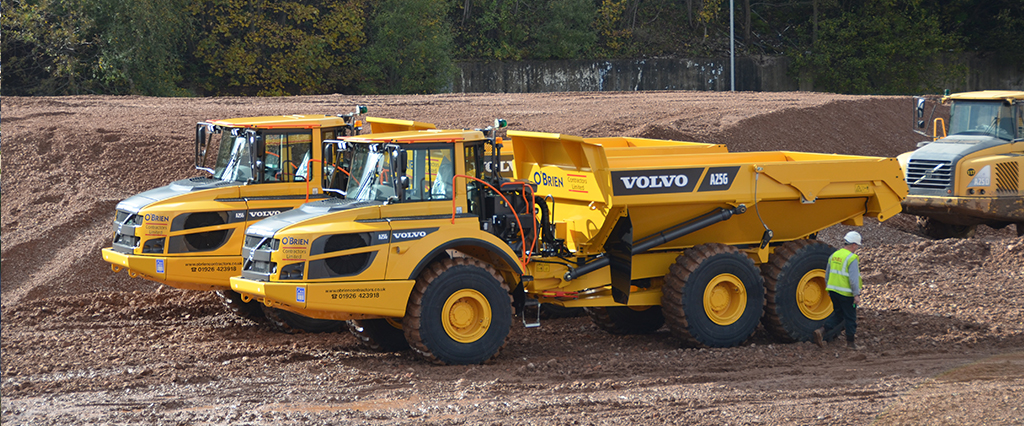 Leading midlands based civil engineering contractor, O'Brien, has invested a further £360,000 in its machinery, taking delivery of two Volvo A25G articulated haulers.
The acquisition takes O'Brien's investment in state-of-the-art software, equipment and machinery, during the last 5 years, to an enviable £2.5m, allowing it to expand services, improve efficiency and reduce costs for its clients.
The overall venture is part of an ongoing diversification strategy which is transforming the business and seen the contractor win countless awards in recognition of its innovation, including 'Tomorrow's Company' by Construction News and 'Contractor of the Year up to £300 million by Building Magazine.
Director, Michael O'Brien said "This outlay comes at an exciting time for O'Brien Contractors, as we secure a number of high profile projects, including Marks and Spencer's in Longbridge and New Cross Hospital in Wolverhampton.
To maintain this success, we are committed to offering our clients the most efficient and cost effective service available at all times. We believe to achieve this we must continue to invest in our people, software and machinery, a strategy that has paid dividends in recent times."
The new haulers will go straight into action at O'Brien's latest contract win with Morgan Sindall, enabling and groundworks for a new Marks and Spencer's development in Longbridge, Birmingham.