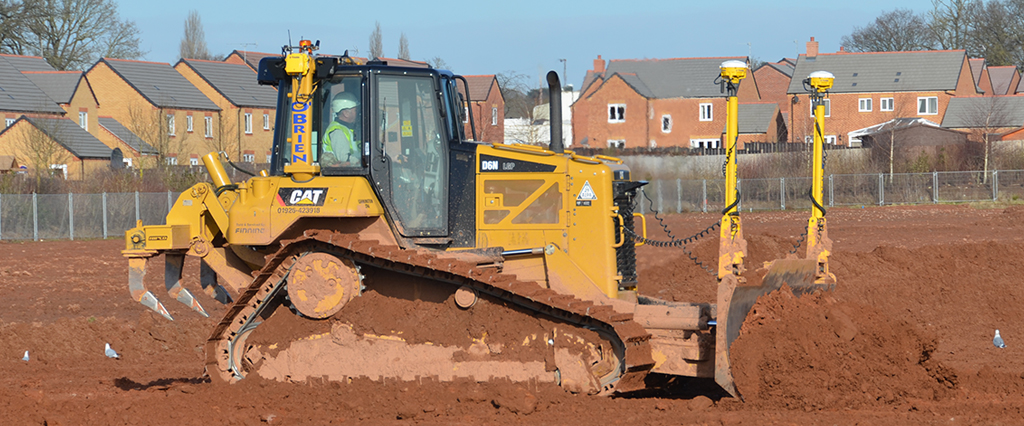 Leading groundworks and civil engineering contractor, O'Brien, is celebrating the start of 2015 with a hat-trick of high-profile project wins valued in the region of £7m.
The contractor has also been shortlisted in four categories of the 2015 Construction News Specialist Awards: Specialist Contractor of the Year (turnover up to £25m), Sustainable Project of the Year, Project of the Year (subcontract over £2m) and Ground Engineering Specialist of the Year.
Appointed by principal contractor, Sir Robert McAlpine, O'Brien will deliver a host of groundworks on LondonMetric Property's £77m Thunderbird 2 scheme – a 90,000 m2 floor distribution centre near Thrapston. The project marks the start of a new relationship with Sir Robert McAlpine.
The partnership formed at Nestle's new £200m coffee production facility has helped secure two further schemes with John Sisk: a groundworks package at Alumno Developments' £30m Student Accommodation at Eastside Locks in Birmingham and an additional groundworks contract for three distribution units at Goodman's Lyons Park scheme in Coventry.
The wins come on the back of a successful 2014 in which O'Brien Contractors picked up a number of flagship projects, including: a £6.5m Marks and Spencer civil engineering and groundworks package with Morgan Sindall at Longbridge in Birmingham; a £5.5m roads and sewers contract for new service personnel housing at MOD Stafford with Lovell Partnership; and a £2.5m groundworks for Kier Construction at the New Cross Hospital Emergency Department, Wolverhampton.
Managing Director, Peter O'Brien said: "In 2009, instead of seeing the financial crisis as a negative, we embarked on a 5 year diversification strategy turning the company from a groundworks specialist to a principal contractor offering pre-construction services, design and build, sport pitch construction, traditional contracting and plant hire."
"We also invested more than £4m in training, plant, equipment and technology – £2m during 2014 – and have retained our directly-employed labour force."
"This success demonstrates the hard work, commitment and dedication everyone at O'Brien Contractors has shown in implementing our business strategy: to deliver the best service to our customers and to improve the efficiency and environmental impact of construction projects.
"We are of course delighted to be recognised for our achievements: by being appointed onto some of the most high-profile developments across the midlands and shortlisted on the 2015 Construction News Specialist Awards in four categories."