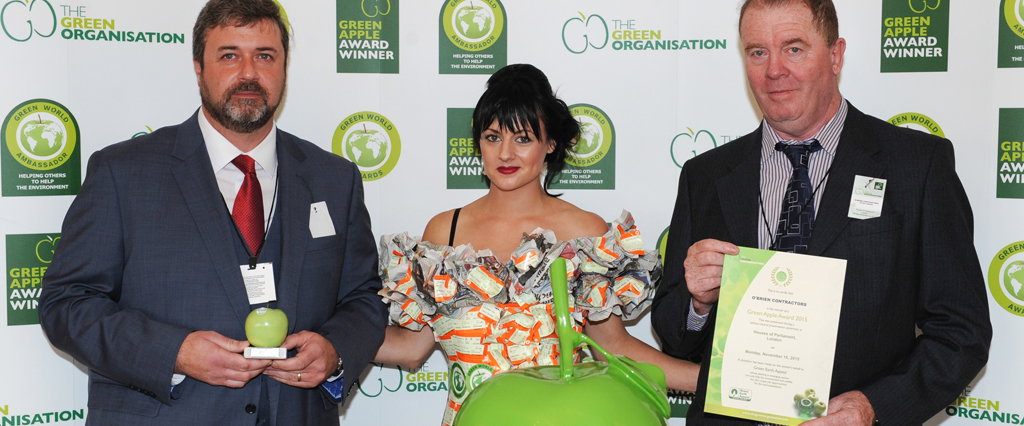 We have been awarded the silver prize at the 2015 International Green Apple Environment Awards.
Our earthworks remediation solution, implemented as part of the £11m groundworks and civil engineering package at Nestle's £200m coffee manufacturing facility, was the key factor for receiving the award.
The judges were looking for evidence that the winning project considered the impact on the environment and contemplated sustainability. With 2012 the wettest year on record, our team were presented with a site containing 40,000m3 of spoil not suitable for re-use. The original solution proposed by our engineer was no longer viable.
To overcome this, we developed and implemented a remediation strategy, that subsequently cut costs by £800k, reduced lorry movements by c7,000 saving 15 tonnes CO2, retained all spoil on-site and reduced imported stone by 70%. Our project team also achieved a zero accident performance with in excess of 90,000 man hours worked and created a safer stable site for ongoing construction work.
Peter O'Brien, Managing Director, said: "Across all the projects we operate on we pride ourselves on delivering a solution that considers the environment. To further endorse this commitment, we will continue to significantly invest in our earthworks service to ensure we provide clients with the most efficient earthworks solutions and also help them reduce waste and costs. Any recognition in the form of an award is very much well received."
The award judges commented: "The best-laid plans often fall victim to outside influence such as the weather – as was the case with this project for Nestle. After planning approval, the scheme experienced the highest-ever rainfall, which made the plans all but impossible. O'Brien management brainstormed the issue and came up with a novel work-around that utilised remediation instead of excavation that not only got the project back on track, but offered a massive reduction in vehicle movements and saved a whopping 15 tons of CO2 emissions."
Commenting on the scheme, Ian Donaldson, Project Director, John Sisk & Son, said: "O'Brien Contractors involvement was the catalyst in developing the most cost effective and least environmentally damaging solution to the problem of a saturated site and they have been a crucial factor to the success of the project."