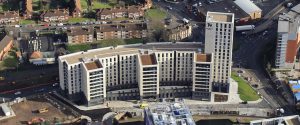 As anticipated by our Director, Phil Griffiths, in our recent blog, 3 Midlands Construction Sector Predictions for 2017, the region is set to see a boom in house building.
A recent article in Construction News confirmed that the Midlands will see £382m being invested to build 11,653 homes over the next four years. Many of these homes will be built on brownfield land, which is often contaminated by previous industrial use and will need remediating.
Our land remediation services have already helped our clients save time and money working on sites such as these, through our use of value engineering combined with our expertise in earthworks.
Working on the University Locks project in Birmingham, which will provide accommodation for 659 students alongside Birmingham City University's new science, technology and learning quarter, we devised and implemented a land remediation strategy that tested and cleaned much of the earth, enabling it to be incorporated back into the site. This diverted 2,210m3 of non-hazardous material from landfill and cut our client's disposal costs.
The Aston University Student Village project, a residential scheme comprising 2,350 en-suite bedrooms on the university's campus in Birmingham city centre, saw us excavating 9,000m3 of material, processing it to meet specification requirements and reinstating the resulting material to meet the compaction criteria laid down for end use.
If you are planning a project and looking for an experienced groundworks and civil engineering specialist, click here to fill in your details and we'll get in touch to chat about your requirements. Or you can just call the team now on 01926 319 724 or email us at [email protected]