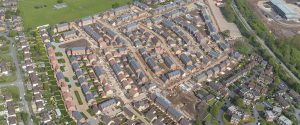 Good news for the UK construction sector and communities with the recent government announcement of £500bn investment in new infrastructure, particularly in the transport, telecoms, flood defence and housing sectors.
Construction News outlined the plans revealed in the Treasury's National Infrastructure and Construction Pipeline in their recent article. This includes significant investments in the Midlands, including plans for new sports and leisure facilities, hospital expansions, new housing, new road networks and new schools.
We can help Midlands customers to ensure that they get the most for the budget that gets allocated to them from this pot, so that their new infrastructure is the best quality for the best value. With many years' experience delivering infrastructure in the region, we can help to design and deliver projects that use innovative solutions to ensure costs are cut, time is shortened and environmental impacts are improved.
A recent example of us achieving this for a customer includes the Longbridge Town Centre Project, a new £100 million town centre at the former MG Rover site in Birmingham, featuring the Midlands' largest Marks & Spencer store at 150,000 sq ft, a six floor multi storey and 500 space car park and an additional 45,000sq ft of retail, restaurant and café space. By working with us through ECI, Morgan Sindall saw us reduce the programme duration by simplifying the design to guarantee the critical dates were achieved. This meant the project was delivered six weeks ahead of schedule. Click here to read the case study.
The Beacon Barracks project in Stafford saw us deliver enabling and infrastructure works for a £150 million redevelopment programme by the Defence Infrastructure Organisation (DIO) to provided 346 new homes for the armed forces, along with workshops, single living accommodation, offices, garages, a junior ranks catering, retail and leisure facility, training, sports and medical services. During the project, our value engineering reduced the amount of imported capping materials through using excavated materials and decreased the amount of excess materials needed removing to landfill. Click here to find out more.
Prime Point 14, just off J14 of the M6 in Staffordshire, is a mix of warehouse, office and commercial showroom developments. After delivering the enabling works to the project's site entrance under a highways section 278 scheme, we were then engaged to undertake all the infrastructure works on behalf of development company Inglewood Investments Limited. This included the cut and filling. The cutting and filling works of approximately 12,000m3 of existing clay material were designed and value engineered by us. This enabled the client to retain all bulk earth materials on site to construct the various plots and be supplemented by a minimal amount of imported material to complete the works.
Contact us
If you are planning a project and looking for an experienced groundworks and civil engineering specialist, click here to fill in your details and we'll get in touch to chat about your requirements. Or you can just call the team now on 01926 319 724 or email us at [email protected]