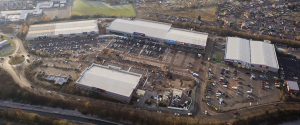 In the summer of 2016, leading industry analysts forecast a year of global growth for the construction sector in 2017. So what does that look like in the local area? Our Director, Phil Griffiths, makes these 3 predictions for the Midlands region:
Non-residential construction projects will continue to boom
The Midlands is playing a big part of the UK's ongoing economic growth and this is driven in part by retail, leisure and infrastructure investments. New projects are up and running and more are planned for the year ahead. We outlined some of these in our recent blog 'Infrastructure investments on the up' and one of our biggest non-residential projects is the Gallagher Retail Park in Wednesbury. Our experience of working on active developments has come to the fore. We are working to a tight programme of works, including working across multiple areas and multiple phases, as well as organising scheduled deliveries to ensure minimum disruption to shoppers on the busy weekends before and after Christmas, and a safe passage to and from home for pupils at the adjacent school is provided.
Midlands economic growth will mainly come from services and manufacturing companies
We already highlighted that the Midlands is a boom region in our other recent blog 'Midlands a key area for growth' but our prediction is that during 2017 the majority of this growth is going to be driven by the manufacturing and services sectors. We're already working on the Four Ashes Park near Wolverhampton, a new £126.3 million stamping plant facility for Gestamp that will process the design, development and manufacture of metal automotive components to serve clients such as BMW, Jaguar Land Rover, Honda, and Toyota. Midlands Business News also recently speculated that during 2017, industrial property investors are going to start building new rather than buying and refurbishing existing sites.
New housing developments
The Chancellor confirmed funding for 40,000 new homes in the autumn statement and also announced Government backing for a second "devolution deal", handing cash and control over key issues such as housing, transport and training to the West Midlands mayor, who is expected to be appointed in May 2017. With local control over housing development funds we predict there will be new social housing, retirement housing and affordable housing projects springing up all over the region. Recent residential projects we've delivered for the Midlands, include the Westcliffe Retirement Village in Stoke-on-Trent, which will provide 390 new care apartments for people over the age of 55; and the University Locks student residential scheme in Birmingham, where we implemented a land remediation strategy and diverted 2,210m3 of non-hazardous material from landfill, saving our client in disposal costs.
What are your predictions for the Midlands construction sector for 2017?
If you are planning a project and looking for an experienced groundworks and civil engineering specialist, click here to fill in your details and we'll get in touch to chat about your requirements. Or you can just call the team now on 01926 319 724 or email us at [email protected]